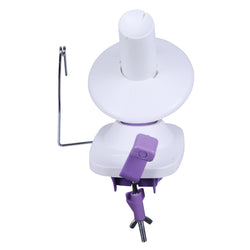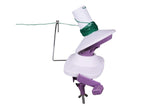 KnitPro Wool Winder Portable
We currently have 1 in stock
Specification
The KnitPro Wool Winder Portable is a very useful tool for all avid knitters and crocheters!
If you have ever bought yarns in hanks, skeins and all kinds of non-ball pieces, you know that sometimes you might want to wind the yarn into a convenient ball. KnitPro's Wool Winder will help you make a perfect wool ball, it's compact and easy to operate, made of plastic with removable shaft.
How to use the Wool Winder:
Attach the winder to a table or any other horizontal surface which fits the integrated screw clamp of the winder, tighten the clamp to make sure the winder is firmly fixed to the surface.
Insert the yarn into the guide arm and start winding your yarn into a beautiful ball! The resulting balls are very neat and you will be able to use both ends of your yarn with equal ease: the outer and the inner one (from the center).

Color: white and purple
Package size: 13,5x15x16 cm