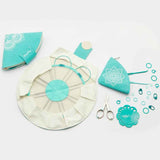 KnitPro Mindful Explore Set
We currently have 3 in stock
Information
Circular knitting is made effortless with the Explore circular needle set from the KnitPro Mindful collection. Knitting as a mindfulness practice is a central concept in this collection. Focusing on the rhythmic, repetitive motion of the knitting needles has a calming effect and is stress-reducing. This has a healthy effect on body and mind.
The stylish Explore set includes fixed circular knitting needles and various accessories, stored in a conveniently designed pouch. The gradually tapered shape and smooth finish of the needle tips allows for a very pleasant knitting experience. In addition to the size, each needle tip features on its surface some inspirational words that keep you focused on the moment. The needle tips are made from recyclable, durable stainless steel. The steel cables are coated with nylon. This makes the cables sturdy, while still allowing them to slide effortlessly through the stitches.
The KnitPro Mindful Explore set includes the following:
8 x fixed circular knitting needles of 25cm total length, including needle tips, in sizes 2.00, 2.50, 3.00, 3.50, 4.00, 4.50, 5.00 and 6.00mm
1 x needle gauge
2 x darning needles
10 x locking stitch markers
10 x split stitch markers
30 x round stitch markers
1 x pair of scissors
The circular needles are supplied in a unique circular pouch that can be folded twice into a triangular shape. On the inside of the case, the needle sizes are clearly marked on the different compartments made with transparent fabric, so that the needles can be neatly stored. The accessories can be stored in the separate small triangular pouch with zipper. The teal-coloured accents and the floral motif in this set are characteristic of the KnitPro Mindful collection.