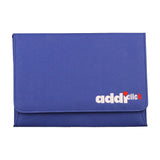 Addi Click Novel Long Needle Set
We currently have 5 in stock
Specification
Addi Click Novel Long are interchangeable lace knitting needles with square, rounded tips. These 13cm long needles have a slighly structured surface to improve grip on the needles and to avoid yarn from sliding off easily. It also makes the overall knitting experience more comfortable and enjoyable.
With the Addi Click system, enjoy the freedom and flexibility of being able to alternate between tips and cords across the Addi Click range, with all Addi Click products being compatible. Create high-quality circular knitting needles when combined with an Addi Click basic cord!
The stylish and practical Addi Click Novel Long lace case includes:
8 long pairs of interchangeable knitting needles (sizes 3.50-8.00mm),
3 red Addi SOS Lifeline cables (60, 80 and 100cm long),
1 connector,
1 gold-colored pin,
Addi Grip to make it easier to click the needles into place.