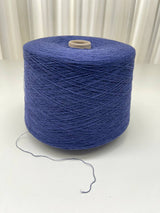 Casa del Filato prato Italy Yaky blue
We currently have 42 in stock
Specification
Fibre Content:

10% yack, 40% fine merino,

30% viscose, 20% acrylic

Needle Size:
3.00-3.50 mm 
Weight:
100 grams in 2-3 strands held together
Length:
1500 metres
Information
Meet our new collection of Italian cone yarns! We're happy to introduce you the best hand-picked yarns on a regular basis. 
Casa del Filato prato Italy Yaky beige is a luxury merino with yack on a strong viscose and acrylic base. Yack yarns are world famous really soft and warm fiber, perfect for making winter clothes. This is a resistant fiber, which makes it perfect for everyday garments, like sweaters and jackets. It's also great to knit accessories, like scarves and hats. Try Filato prato Yaky from Italy with amazingwool!
Please, note that we can spin only 100-g balls. The price is for 100 gram ball. Please, choose the needed number of balls in the window below and let us know in comments if you want your order to be winded in 2 or 3 strands together as this yarn is quite thin.