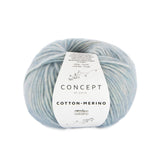 Concept Cotton-Merino 142
The product is out of stock
Specification
| | | |
| --- | --- | --- |
| | Fibre Content: | 70% Cotton - 30% Merino |
| | Needle Size: | 4.5 mm – 5 mm |
| | Ball Weight: | 50 grams |
| | Length: | 105 metres |
Information
Warm cotton yarn with very light weight merino wool available in delicate pastel colours.
Cotton-Merino is a fantastic yarn for youthful dresses and elegant between season coats.
Magnificent natural fiber blend for making soft textural jumpers and occasion wear women's jackets. Perfect for making clothes for babies and children.
Each ball weighs 50 grams and has 105 meters. This is a medium weight yarn and we recommend using size 7-8 (U.S.)/(4.5-5 mm) knitting needles and size 7 (U.S.)/(4.5 mm) crochet hook. 9 balls of yarn are required to make a size 12 woman's long sleeve jumper. To make a 4x4" gauge square work 16 sts and 23 rows. Hand wash. Do not tumble dry.