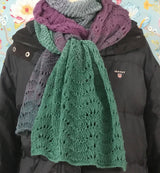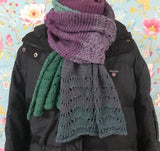 FREE knitting pattern 'Scheepjes Woolly whirl scarf'
This product is available
Specification
This scarf is designed from Scheepjes Woolly Whirl. Only 1 ball is needed to make this scarf. 
Choose any color you want, our Woolly Whirl collection can be found here:
https://amazingwool.com/collections/woolly-whirl
This particular scarf in the photo is made using color 472 of Scheepjes Woolly whirl.
The scarf will measure approx. 250 cm x 33 cm depending on how loose or tight you knit.

Circular knitting needles 4,5 mm are used for knitting this scarf.
These are also available at our webstore:
https://amazingwool.com/collections/addi/products/addi-circular-knitting-needles?variant=32693438808197
This pattern is created by Sunny design.
The Pattern is free for download. Please click below at the 'Buy it now' button, then fill in your e-mail, name and address details and click on 'Continue to payment'. Please don't worry for clicking this, the Pattern is for free, no money is charged. The download button will be visible in a new page and also E-mail is sent to you with a link for the download.
FREE knitting pattern 'Scheepjes Woolly whirl scarf'