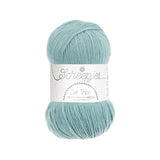 Crochet pattern 'Blue flower haze shawl'
This product is available
Specification
Do you like to crochet scarves and shawls and do you want to add a light autumn/spring version to your wardrobe? Then get started with this pattern. A nice pattern for beginners. But also if you're looking for a wonderfully boundless project.
The shawl from the picture shown here is made with 3 skeins of Scheepjes our tribe 882. The hook size that is used is 4,5 mm.
Choose any color you want, our Scheepjes Our tribe collection can be found here:
https://amazingwool.com/collections/our-tribe.
Find your fav hook on our webstore: 
https://amazingwool.com/collections/clover/products/clover-amour-crochet-hook?variant=32763711881349  
The Pattern is free for download. Please click below at the 'Buy it now' button, then fill in your e-mail, name and address details and click on 'Continue to payment'. Please don't worry for clicking this, the Pattern is for free, no money is charged. The download button will be visible in a new page and also an email is sent to you with a link for the download.
If you haven't received the email within 15 minutes, please, check spam box. If there's still no email in spam box, please, make sure you're checking the right email address. If the address is correct and the email still doesn't get through to you, please, contact us via email: info@amazingwool.com 
Not ready yet
Have the yarn and now the pattern. this is motivating me to finish the baby blanket I have 3,/4 completed.
Crochet pattern 'Blue flower haze shawl'