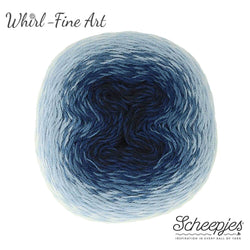 Fine Art 658
We currently have 26 in stock
Specification
Fibre Content:
50%

Superfine Merino

, 25% Microfiber, 25% Acrylic

Needle Size:
4 mm – 5 mm
Ball Weight:
220 grams
Length:
460 metres
Information
Enjoy the unique, long-gradient colourways characteristic of our Whirl collection in the comfort and warmth of a Superfine Merino blend.

By taking the softness and artistic theme of our Merino Soft yarn range and combining it with the gently changing long-gradient of our highly popular Whirl collections, in a stunning Superfine Merino Wool blend yarn, Whirl - Fine Art crafts masterpieces.

As the sister yarn to our existing Merino Soft range, Whirl - Fine Art exudes the same 'silky' look and feel as Merino Soft, offering exceptional comfort and an unmatched soft touch. Available in a selection of 12 colourways named and inspired by major movements in art history, Whirl - Fine Art transforms your knitted or crocheted items into true works of art.

Sharing the same fibre qualities and weight as our Merino Soft yarns, Whirl - Fine Art is designed to pair perfectly with this yarn, offering you endless colour palettes and project-potential. Together, these yarns can create unique garments with a dip-dyed appearance, contrasting sleeves or details in complimenting shades. Thanks to the inherent warmth and comforting feel of Superfine Merino Wool, this yarn is particularly suitable for creating timeless garments and wearable accessories for the cooler seasons.