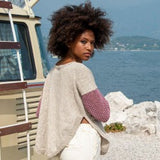 FREE Crochet pattern "PULL CON MANICHE TRAFORATE"
This product is available
Specification
AmazingWool.com loves everything related to yarns and crafting. We're happy to provide you with wonderful FREE crochet patterns in different languages so that you could enjoy both the idea and materials!
Meet pattern for a pretty top "PULL CON MANICHE TRAFORATE". It's a FREE pattern designed by Mondial yarns for their awesome yarn Fresco Lina available here on our webstore as well:
https://amazingwool.com/collections/fresco-lino
This pattern is available in the following languages: Italian, Deutsch, Spanish. All in one file.  
The Pattern is free for download. Please click below at the 'Buy it now' button, then fill in your e-mail, name and address details and click on 'Continue to payment'. Please don't worry for clicking this, the Pattern is for free, no money is charged. The download button will be visible in a new page and also an email is sent to you with a link for the download.
If you haven't received the email within 15 minutes, please, check spam box. If there's still no email in spam box, please, make sure you're checking the right email address. If the address is correct and the email still doesn't get through to you, please, contact us via email: info@amazingwool.com