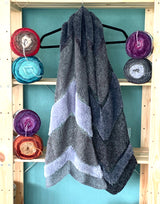 FREE knitting pattern 'Marlet scarf'
This product is available
Specification
Marlet scarf is especially designed for self-striping yarn Mondial "Trio" and can be made by any knitter thanks to video-instructions. You won't have to weave in the ends, only 1 ball is needed to make a long and easy scarf.
This scarf has a form that reminds of a marlet's tail - a shape, which forms by 2 triangles in the bottom.
Choose any color you want, our Mondial Trio collection can be found here:
https://amazingwool.com/collections/trio
The needles you can order at our website: 
https://amazingwool.com/pages/needles-hooks
Knitting techniques: knit, purl, k2tog, ssk, t-yo, crochet bind off.
Stitch level: easy
Gauge: this pattern is not sensitive to gauge, just make sure not to tighten the stitches too much.
Video-instructions: cast on, the first 4 rows, bind off.
Finished measurements: 172 x 28cm 67.7 x 11 in.
This particular scarf in the photo is made using color 485 of TRIO.
This pattern is written in English in standard US knitting terms.
The Pattern is free for download. Please click below at the 'Buy it now' button, then fill in your e-mail, name and address details and click on 'Continue to payment'. Please don't worry for clicking this, the Pattern is for free, no money is charged. The download button will be visible in a new page and also an email is sent to you with a link for the download.
If you haven't received the email within 15 minutes, please, check spam box. If there's still no email in spam box, please, make sure you're checking the right email address. If the address is correct and the email still doesn't get through to you, please, contact us via email: info@amazingwool.com 
Easy but pretty pattern
When I got the hang of it, it's easy. The result is an absolutely stunning scarf. Thank you!!