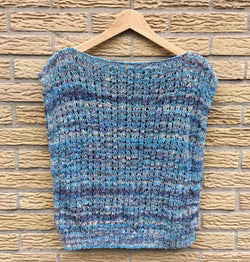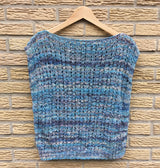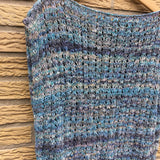 FREE Knitting pattern for Gipsy by Mondial 'Truitje'
This product is available
Specification
We love fancy yarns, but sometimes it takes a while to find a matching project for it. Now you don't have to make it for Gipsy by Mondial! 
This particular top in the photo is made using color 816 of Gipsy by Mondial and it takes 4 balls for a 110 cm around the bust size. The top is made in 2 separate pieces which are then sewn together.
Gauge: 20 sts and 28 rows in 10 cm square.
You can find other colors of this lovely yarn here:
https://amazingwool.com/collections/gipsy
You will also need knitting needles 3 and 4 mm, they are available via link:
https://amazingwool.com/pages/needles-hooks
This pattern is created by Ingrid, Sunny designs exclusively for AmazingWool.
The Pattern is free for download. Please click below at the 'Buy it now' button, then fill in your e-mail, name and address details and click on 'Continue to payment'. Please don't worry for clicking this, the Pattern is for free, no money is charged. The download button will be visible in a new page and also an email is sent to you with a link for the download.
If you haven't received the email within 15 minutes, please, check spam box. If there's still no email in spam box, please, make sure you're checking the right email address. If the address is correct and the email still doesn't get through to you, please, contact us via email: info@amazingwool.com 
Wow
Leuk patroon voor een mooi truitje