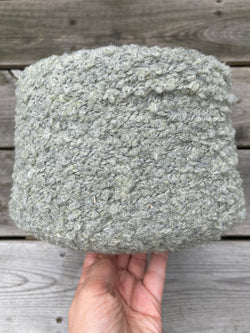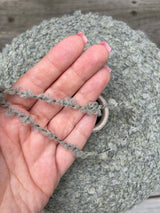 Lagopolane Boccolo green-grey
We currently have 23 in stock
Specification
| | | |
| --- | --- | --- |
| | Fibre Content: | 4% alpaca, 8% viscose, 8% wool, 62% acrylic, 18% polyester |
| | Needle Size: | 5 - 6 mm |
| | Weight: | 100 grams |
| | Length: | 330 meters |
Information
Meet our new collection of Italian cone yarns! We're happy to introduce you the best hand-picked yarns on a regular basis. 
What a pretty sheep! Boccolo is a perfect boucle yarn - it's strong and fluffy, with lovely curls wrapped around a thinner thread. The softest and cutes things come out of yarns like Boccolo and we're happy to offer it to your attention! 
Please, keep in mind, that boucle yarns are mostly good for knits and it's very difficult (sometimes almost impossible) to unravel if needed, that's why we recommend having a small surplus as a plan B if you need a correction.
Please, note that we can spin skeins 100 g each, so just put the needed number of skeins in a cart to order the needed weight.