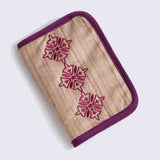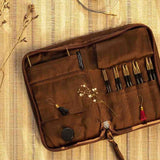 Lantern Moon Grace needle set (interchangeable,10 cm length)
We currently have 4 in stock
Specification
Lantern Moon produces unique ebony crochet hooks and knitting needles. Ebony is a very hard black-coloured wood that hardly splinters. In addition, there is hardly any shrinkage or expansion with dry ebony. All these properties make the specific type of wood the perfect material for durable knitting and crochet hooks. With Lantern Moon you get beautiful, high-quality and durable handicraft products.
The complete Grace interchangeable needle set in this collection consist of durable interchangeable ebony wood tips in combination with cables with Swivel system and accessories. Lantern Moon's ebony interchangeable points have a smooth, glossy surface and perfectly shaped, tapered tips, allowing the needles to glide effortlessly through the stitches. They are, in combination with a matching cable, suitable for both circular and straight knitting. The Swivel system of the cable allows the knitting needle tips to rotate freely, which prevents the cable from kinking or twisting during knitting. The steel cable features also a transparent nylon coating. This makes the cable sturdy, still allowing the stitches to easily glide over the needles. The interchangeable tips and cables are fitted with a seamless brass screw section at the ends, which is luxuriously finished with 24k gold. The cable also features a hole for the cable key that secures the needle tip to the cable. The holes for the cable key can also be used as a lifeline to retrieve dropped stitches, for instance. With the help of end caps you can turn an interchangeable cable into a straight needle or stitch holder.
The Grace set includes the following:
5 pairs of interchangeable needle tips of 10cm length in sizes 3.00, 3.50, 4.00, 4.50 and 5.00mm
2 x Swivel cables of 40 and 50cm total length including needle tips
4 x wooden end caps
2 x cable keys
5 x stitch markers with coloured tassel
The set is supplied in a beautiful rectangular fabric pouch that closes with a zipper. The inner lining features a beautiful purple colour, while the outer section shows neutral shades and purple embroidery. The case has separate compartments for storing needle tips and plenty of other compartments for cables and accessories.