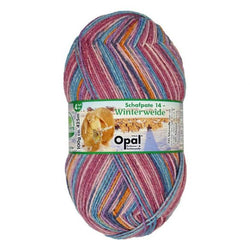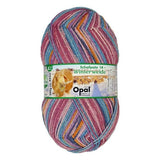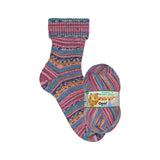 Schafpate 14 Winterweide 11195
We currently have 6 in stock
Specification
Fibre Content:
75% Wool (superwash)

, 25% polyamide

Needle Size:
2-2,5 mm
Ball Weight:
100 grams
Length:
425 metres
Information
Opal Schafpate 14 - Winterweide is a wear-resistant yarn made from 75% virgin wool (superwash) and 25% polyamide in 8 natural colorways. Ideally suited for knitting cozy warm socks with unique colour patterns, but of course also for sweaters, cardigans, hats, gloves, scarves or cuddly toys. Opal is back for the fourteenth year with their beloved Schafpate collection. The yarn from this collection is made from a rare breed of German sheep wool. A share of the profit from the Schafpate 14 Winterweide collection will be invested towards the protection of German migratory sheep farming and Opal is proud to share with their customers that over 165.000 euros have been collected for this cause throughout the years! You can knit one pair of socks (up to EU size 44) with one ball of yarn.
This assorted 4-ply yarn is available in 8 stunning colorways. Washable up to 40ᵒC. 
Great for: Socks, gloves, scarves, hats, accessories, children's garments.