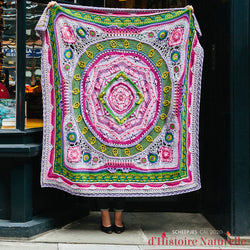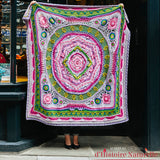 Scheepjes CAL2020 d'Histoire Naturelle - Mineralogy
The product is out of stock
Specification
Scheepjes proudly presents the d'Histoire Naturelle Official Scheepjes 2020 CAL & Read-A-Long designed by Scheepjes Blogger Christina Hadderingh from A Spoonful of Yarn blog, which will begin on September 23, 2020. The design for this spectacular crocheted blanket is inspired by the many galleries of the breathtakingly beautiful Muséum National d'Histoire Naturelle (Museum of Natural History) in Paris, which is highlighted in the book All The Light We Cannot See by the award-winning author, Anthony Doerr (book not included in the kit). Participants are encouraged to read along with the book as they crochet to make the most of this extraordinary Crochet and Read-A-Long experience!
During the Crochet-A-Long, both adventurous beginners and experienced crocheters will learn various stitches and techniques while following an unique journey in creating the stunning d'Histoire Naturelle blanket. The blanket is available in 4 colourways and in two Scheepjes yarns: Scheepjes Colour Crafter or Scheepjes Stone Washed & River Washed (item no. CAL2020-SW). The 4 colourways are Herbarium, Mineralogy, Conchology and Entomology. The finished blankets measure 140-145 x 140-145cm (Stone Washed) or 145-150 x 145-150 (Colour Crafter) after blocking.
The Colour Crafter kit includes:
17 x 100g balls of Scheepjes Colour Crafter [100% Premium Acrylic (Anti Pilling), DK weight]
1x pack of Toho Glass Beads
1x beading needle
1x official CAL souvenir bookmark
1x letter from the designer
1x YARN The After Party booklet
Stitchmarkers
The FREE crochet pattern
The free crochet pattern will be published in 6 parts, covering 1 to 2 weeks, rather than weekly releases as in previous CALS. The pattern will be available in English (UK & US), Dutch and German in the official Scheepjes Facebook groups and on the Scheepjes website. Additional languages may become available during the CAL. The pattern will remain available online after the CAL! Each part will be accompanied by handy video tutorials for left and right-handed crafters (in English and Dutch), created by Scheepjes Blogger Esther Dijkstra of the blog It's all in a Nutshell.
Amazing find
I'm really happy that this kit was still around. The shipping was very fast, the service is excellent and very helpful. This shop is really a gem!