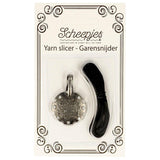 Scheepjes yarn slicer
We currently have 7 in stock
Specification
The Scheepjes Yarn Slicer is both a practical tool and stylish accessory!
Designed with an integrated blade, simply pull your thread or yarn through one of the grooves to cut! Perfect for crafters who enjoy traveling, or like the convenience of this handy device. Each yarn slicer is supplied as a pendant with a cord for wearing as a necklace or attaching to a keychain.
The pendant features shimmering diamantes and a lovely embossed pattern.